a love story.

this was one of my first drawings. besides the face and the lack of hips, i like it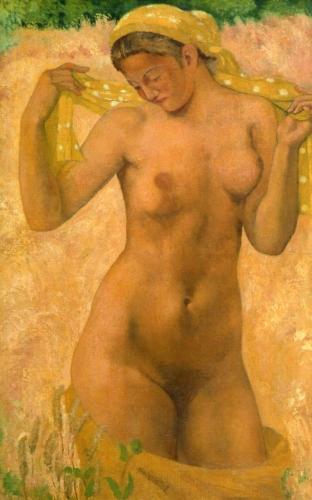 le grand nu jaune
aristide maillol
huile sur toile
1943

his muse
dina and her lover
maillol chose vierny as his model around the time she was fifteen. he was nearly 75, and they became lovers. ten years later, he died. she inspired beautiful works of art and eventually founded musee maillol in the early 70s. the gorgeous building is located in the seventh arrondisement on rue de grenelle. near there, just down rue de bac is a lovely parc perfect for a small visit or quick picnic.(it also has a fun playground for children.) dina would visit the museum for events, and my friend was able to go and meet her one evening. she didn't have an extra ticket, else it would have been one of the most spectacular nights of my life. madame vierny was almost 90 when she died.
i am not sure if she ever admitted to being his lover, but i imagine it was true, and that she carried a deep sadness with her all of those years. can you see it in her eyes?